"Pinball, Star Wars & Stereo 3D for free?! Sign my up!"
If you have a PS3 and you've been eying Zen Pinball 2′s Star Wars tables you may want to sign up for Playstation Plus because members can get Star Wars pinball for free in August!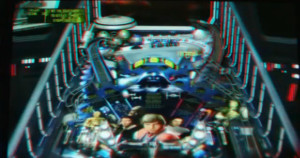 Above is a screen grab in anaglyphic (red/cyan glasses) 3D
My "review" of Star Wars Pinball in 3D: http://www.youtube.com/watch?v=71qcWftLDsA&feature=share&list=UUhop_tO6tu3dY5s6qbXPPOA
Remember, you can watch my videos in 2D by clicking the 3D button on YouTube and turning the 3D off.
Or, if you have a 3D TV or monitor you can watch the videos in style by clicking the 3D button and choosing line interlaced, side-by-side, over-under or other 3D type!
The Star Wars tables include The Empire Strikes Back, Clone Wars Animated and Bobba Fett!