"The random-generated cave exploration that your XBOX friends warned you about!"
What can you say about the rogue-like cave exploration game known as Spelunky (or sometimes that @$&*% game!) that hasn't been said before?
Maybe, "Please bring it out on PC". Ok, maybe that has been said before.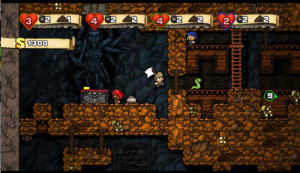 Spelunky actually started it's life on the PC, you can download the original for free.
The original version seems to have been made with an early version of YoYoGame's Game Maker and suffers from the big problem with screen scaling.
If you run it as-is the game is in a very tiny window, if you adjust it  to fill your screen most of the view is cut off making it unplayable!
The new version coming to gog.com Aug. 8th looks to be the same one enjoyed by XBOX 360 owners so I'm very excited to get it ASAP!