"It's not heavy, it's one of my arcade favorites and it needs a good dual stick remake!"
Pictures from http://www.arcade-museum.com
Heavy Barrel in my opinion should be remade for use with xbox 360 / PS3/logitech dual stick controllers, if you have tried to play this on MAME you know how hard it is the aim your guy in the right direction using one key to turn counter-clockwise and another to turn clockwise!
I've played games like Commando 3 on PS3 which is very close to Heavy Barrel, but not quite close enough.
HB had a game mechanic where you collected keys from shooting the guys in red uniforms (lousy pinkos!) and using the keys on the metal lock boxes one finds throughout the game.
Inside the boxes you can find weapons, shields or a piece of the super weapon know as Heavy Barrel!
When you collect all the parts for HB you get to wield the titular (I know some of you just giggled there, stop it!) weapon and blow away everything you can for a few seconds!
HB can be built about 2 times per game!
The other gimmick to the arcade game was the dial joysticks, you could turn in all directions to fire your weapon or throw grenades by twisting the top of the stick and at the same time walk in a different direction.
I know, it seems commonplace now because of the dual stick controllers we have now, but it was really cool in the 80′s!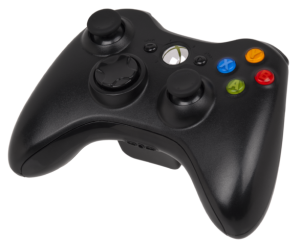 http://coinopdoc.com/getimages.php?fld=arcade&var=heavy%20barrel
This site has some good pictures of the arcade cabinet, but the joysticks are not original, they should be yellow 360 degree dial sticks!
I saw a new game on Steam called Narco Terror I'll probably try that out!
Until then, here's hoping someone will make a great clone or remake!