"Really great folks and it's a great value, too!"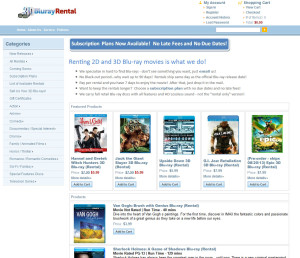 Ever since I got the equipment to view them I've wished that Netflix or Blockbuster would rent 3D Blurays.
The big 2 don't (yet), but I found a company that does!
3D Blu-ray Rental is a company in California that will rent 3D discs 1 at-a-time, 2 at-a-time or 3 at-a-time monthly!
I had been renting discs from them for a while and one day I got an email saying that they were trying new subscription plans (for a trial period only).
For $15.99 a month I could rent up to 5 discs 1 at-a-time!
AND, when you put them in the mailbox you can notify 3D Blu-ray Rental online and they will send the next disc right away so you don't have to wait for them to receive the other first!
With 3D movies in the theater costing $15 and up that was a great value!
And it still is, because they kept the subscription plans active after the trial run was apparently very successful!
Another thing that 3D Blu-ray Rental is doing that's new is if you would like to keep the rented disc they will sell it to you for as little as $5!
I am not getting paid or getting any discounts or free stuff from them to say these things, I just wanted to let you know about a company that you can trust and that delivers a great service to 3D fans!
So take a look at: http://stores.3d-blurayrental.com